Other Featured Anomalous Artefacts:
Petrospheres: Carved Stone Balls:
There are several examples of carved stone balls in prehistoric cultures who's original meanings can now only be guessed at. The petrospheres of Neolithic Scotland appear to show an unexpected connection with the Platonic solids while the hundreds of carved stones on the Pacific coast of Costa Rica suggest something altogether different. Perhaps all we are looking at with these carved stone balls is an attempt to express our affinity with geometry, but whatever the cultural incentive, there is no doubting the beauty of a perfect sphere when it meets the eye.
(More about Carved Stone Balls)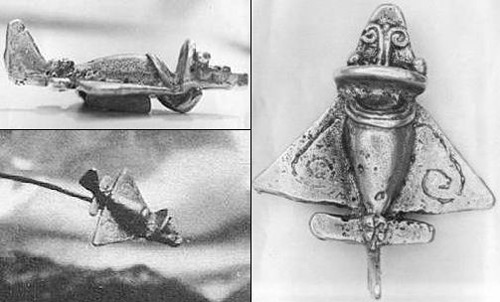 Model Aircraft: Egypt and South America:
There are several prehistoric model aircraft from both Egypt and South America. They show an understanding of aerodynamics in their designs which suggests experimentation.
The 1898 excavation of the Pa-di-Imen tomb at Saqqara, and another 14 Egyptian 'zoomorphic' models so far discovered all include an upright tail-fin, a feature not seen in nature, and therefore more likely the result of deliberate experimentation in aerodynamics.
(More about the 'Model Aircraft' and Ancient Flight)

Carved Stone Vases, Egypt:
The Egyptian dynasties produced several enigmatic artefacts which continue to defy a satisfactory explanation. The schist disc on the right can be seen at the Cairo museum in Egypt, where it is officially classified as an 'incense burner'. The Egyptian skill with stone produced some incredible results such as the thousands of stone jars...
(Other Examples of Extreme Egyptian Masonry)
The Iron-plate, Great Pyramid.
According to the textbooks, it was only around 1,200 BC that it became possible to make a furnace hot enough to smelt iron. Yet in 1838, the English explorer Col Richard Howard Vyse discovered an iron plate embedded in the structure of the Great Pyramid in Egypt, an edifice traditionally dated to about 2,600 BC. Subsequent tests showed the plate to have very low carbon content, proving it could not have come from a meteorite (the only known source of iron in ancient Egypt) and must have been smelted.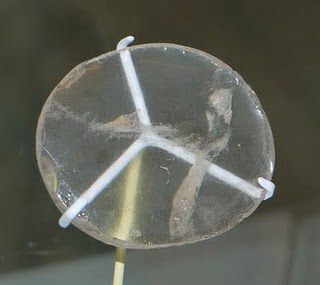 Ancient Lenses (Middle East and Mediterranean):
The discovery of over 400 ancient lenses has lent weight to the possibility that some at least, might have been used for astronomical purposes. Perhaps no coincidence that contemporary Babylonian texts refer specifically and accurately to celestial objects and details that are not available with the naked eye.
(More about Optics and the Ancient Lenses)
Electric Cells (Baghdad Batteries)
Railway construction in Baghdad in 1936, uncovered a copper cylinder with a rod of iron amongst other finds from the Parthian period. In 1938, these were identified as primitive electric cells by Dr. Wilhelm Konig, then the director of the Baghdad museum laboratory, who related the discovery to other similar finds (Iraqi cylinders, rods and asphalt stoppers, all corroded as if by some acid, and a few slender Iron and Bronze rods found with them). He concluded that their purpose was for electroplating gold and Silver jewellery.
Naturally Magnetised Carved Figures, S. America:
Several South American stone carvings have been realised to have been carved around naturally magnetic rock. Not only that, but the magnetised areas tend to be in specific locations of the body. There are at least four 'Fat-Boys' from the Olmec culture which have been shown to have magnetised navels and foreheads, in addition other animals are positively and negatively charged in their heads and tails. It is still unknown how the carvers were aware of the magnetic qualities of the stone in the first place.

(More on the Magnetised South American Carvings)

(Out of Place Artefacts - O.O.P.Arts)

(Prehistoric Sciences Homepage)

References:

1). M. A. Cremo & R. L. Thompson.

Forbidden Archaeology

. 1993. Bhaktivedanta Institute.

2). http://community-2.webtv.net/WF11/MysterySpheres/ 3). http://www.badarchaeology.net/data/ooparts/dorchester.php 4). http://home.texoma.net/~linesden/cem/hamr/hamrfs.htm

8). Dr. Hans J. Zillmer.

Darwin's Mistake.

Adventures unlimited press, 1998.

9). Rene Noorbergen.

Secrets of the Lost Races

. New English Library. 1977.