A Selection of Facial Types in Olmec Art.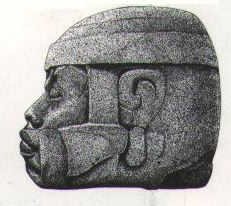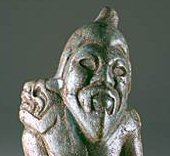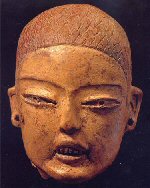 One of the most intriguing aspects of the Olmecs is their lifelike portrayal of different racial types in their art. From the earliest discoveries of the huge carved-stone 'African' heads, to the extraordinary similarity to the Chinese Shang culture in art and text, the Olmecs appear to have been influenced by several racial types, making them possibly one of the earliest true multi-cultural societies in the Americas. There has been much debate over this issue, although the evidence is in favour of the probability of contact with old-world cultures from both the Pacific and the Atlantic, it is yet to be officially accepted by academia. It is perhaps no coincidence that the Gulf of Mexico is the narrowest continental separation between the two oceans.
The following 'circumstantial' examples illustrate the similarities between the two cultures, and why the theory has gained weight.
Evidence to Support an Oriental Connection:
'According to several authors, including Mike Xu, professor of Chinese studies at the University of Central Oklahoma, the Olmecs are descendants of ancient Chinese. The Olmec culture began around 1500 BC, at around the same time as China�s Shang dynasty (c. 1,766 to 1,122 B.C.). According to ancient chronicles of that era, when the Zhou were invading and plundering the Shang, records state that the son of the emperor brought 25,000 adepts toward the �eastern ocean.�