| | |
| --- | --- |
| Location: Near Ggantija, Gozo, Malta. | Grid Reference: 36.05˚ N, 14.26˚ E |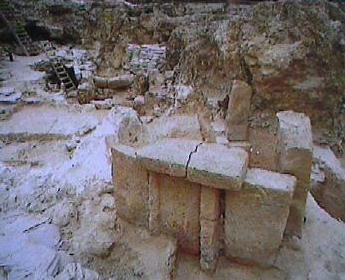 The Hypogeum II: (Other Names).
Underneath, and in the middle of the Xaghra circle, archaeologists have unearthed a second Hypogeum. It contained approximately 70 bodies and is still being excavated, making viewing an almost impossibility (2004).

It has been suggested that there may be other 'Hypogeum's' under other significant Maltese sites (or other stone circles).

...The hunt is on...
A burial sequence was revealed in the middle of the Circle that continued from the earliest Temple Period (Zebbug) 4100 BC to the latest (Tarxien) 2500 BC followed by a further phase of limited occupation most prominent in the Tarxien Cemetery period 2500 - 1500 BC.

(1)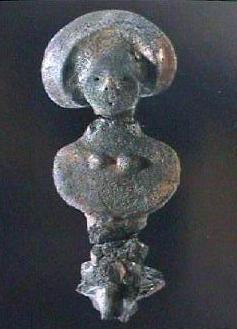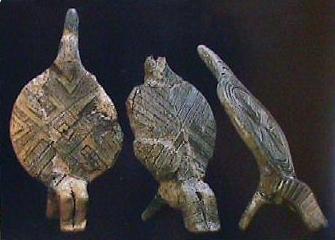 These anthropomorphic artefacts were unearthed in the excavation. They are unlike any other artefacts uncovered in Malta.
The Xhghra stone circle had enclosed a ritual area, entered through a huge stone entrance which led the mourners across a stone threshold and probably down steps into the rugged caves. At the centre, was an area enclosed by elegant megalithic trilithon altars and a massive stone bowl. The many natural caverns and niches of the caves were divided off by walls and stone slabs.
(2)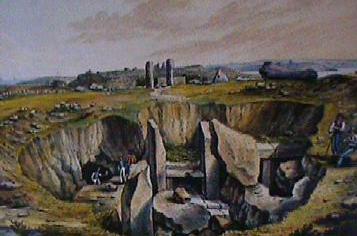 Picture by Brochtorff (1825)
The caves of the Xaghra Circle were cut by underground water thousands of years before their use for burial. Over the hundreds of years when they were employed for burial, the structures became weakened and the prehistoric people attempted to stabilise the falling roof with megalithic stone props.
The structure collapsed before 2000 BC, obliterating the burials and stone alters. (2)