Aberdeenshire Recumbents:
The Recumbent Stone Circle (RSC) is Aberdeenshire's unique contribution to the tradition of erecting rings of standing stones which was current in certain parts of Britain and Ireland during the third and second millennia BC. Their place, function and role in prehistoric society has been variously speculated on, with ideas ranging from sacrificial altars to the now conclusively proven association with astronomy.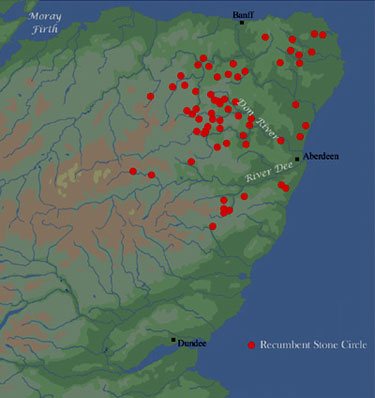 Over a hundred examples have been recorded, with diameters ranging from 18.2 m to 24.4 m.
The distinctive feature of the RSC is the massive slab, laid recumbent on its side in the south-western or southern arc of the ring, and flanked by the two tallest stones of the circle. The recumbents average 24 tons in weight and were carefully levered and chocked-up to ensure that their upper surface was as level as possible.
The Stone Recumbents and their flankers were carefully chosen and are generally of a different composition and colour to the rest. At Easter Aquhorthies, a few miles west of Inverurie, most of the stones are of pinkish porphyry but one is red jasper. They contrast with the light grey of the granite flankers and the red granite recumbent.
'There is also an association between recumbent stone circles and Scottish carved stone balls � echoing the carved chalk balls found at and around Stonehenge. Carved stone balls originate in Orkney and Aberdeenshire, and are associated with a style of pottery called Grooved Ware, which spread southwards throughout Britain. Most carved stone balls have geometric patterns of grooves carved across their surface, depicting a series of shapes known as the Platonic Solids or compound polyhedra. The number of bosses carved on the balls demonstrate these Neolithic people were able to count and use complex geometry. Recumbent stone circles and carved stone balls suggest that a group of people in north-east Scotland and Orkney were conversant with mathematics, geometry and astronomical alignments in a pre-literate context'. (3)