The Palaeolithic Era: A Record of Invention.
Fire: Fire was used in a controlled fashion by the Lower Palaeolithic hominid as early as 1 million years ago (11) and possibly even earlier by the early Lower Palaeolithic (Oldowan) hominid Homo habilis. Early hominids may have begun to cook their food as early as the Lower Palaeolithic or at the latest in the early Middle Palaeolithic (c. 250,000 years ago) (2). Some scientists have hypothesized that Hominids began cooking food to defrost frozen meat, which would help ensure their survival in cold regions.
Rafts: The Lower Palaeolithic hominid Homo erectus possibly invented rafts (c. 800,000 or 840,000 BP) to travel over large bodies of water, which may have allowed a group of Homo erectus to reach the island of Flores and evolve into the small hominid Homo floresiensis. The possible use of rafts during the Lower Palaeolithic may indicate that Lower Palaeolithic Hominids such as Homo erectus were more advanced than previously believed, and may have even spoken an early form of modern language.(4) Supplementary evidence from Neanderthal and Modern human sites located around the Mediterranean Sea such as Coa de sa Multa (c. 300,000 BP) has also indicated that both Middle and Upper Palaeolithic humans used rafts to travel over large bodies of water (i.e. the Mediterranean Sea) for the purpose of colonizing other bodies of land. (6)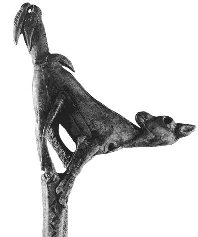 Harpoons: These were invented and used for the first time during the late Middle Palaeolithic (c.90,000 years ago); the invention of these devices brought fish into the human diets, providing an edge against starvation and a more abundant food supply (6). Nets: The first evidence of nets comes from the Upper Palaeolithic (c. 22,000 or 29,000 BP) (9)
Weapons: Several specialised hunting weapons emerged during the Palaeolithic such as wooden spears (400,000 - 300,000 BP), The Bola (c. 30,000 BP) (7), the spear thrower or 'Atl-atl' (Image right, 'Ibex with bird' c.20,000 BP) (10), and the the bow and arrow (c. 25,000 or 30,000 BP).
Article: (Pap.pl -Polish News) (June, 2013)

'Unique Workshop of Palaeolithic Hunters Found'

More than a thousand flint tools and waste generated on during their treatment were discovered near Pietrowice Wielkie (Silesia) by archaeologists from the Institute of Archaeology, University of Wrocław - told PAP head researcher Dr. Andrzej Wiśniewski. The flint workshops, remains of which were found by archaeologists, had been used by Neanderthals. The researchers are waiting for more detailed information on the site dating. The workshop is certainly more than 45 thousand years old."Tools were made by a specific canon of Neanderthals living in Central Europe. These items have a cutting edge on both sides, they are bifacial" - said Dr. Wiśniewski.
Dogs: Evidence from canine DNA suggests that dogs may have been first domesticated in the late Middle Palaeolithic around 100,000 BP or perhaps even earlier. (8)