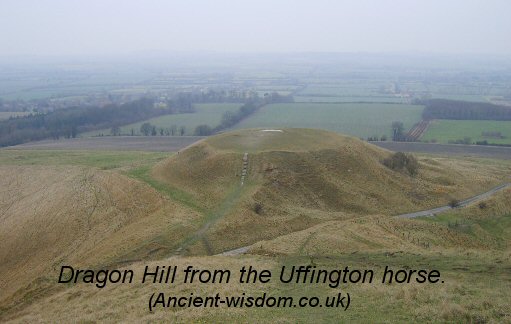 The levelled hill sits below and in front of the Uffington Horse.
The flattened top is similar to that seen at Silbury Hill, which also sits on the Ridgeway.
It is generally accepted that the top of the hill was artificially shaped, although no reason has been put forward to explain why. One assumes that the flattened top played an important part in the ceremonial use of the landscape. Other flattened hill-tops in England were often used as 'Beacon' hills, where fires were lit.
The Whole valley has been likened to the shape of a Dragon's head facing North, with the flattened top of Dragon Hill itself, represents the eye of the Dragon. This theory leads to the suggestion that along with the artificial flattening of Dragon Hill, the western gulley's may have also been partially carved in order to accentuate the image of a Dragon. However, having looked at overhead images of the location, I have to confess that such a connection is tenuous at best. Make your own mind up...
Dragon Hill sits on the Uffington Ley, which runs almost true north.
The Uffington White Horse.
Considered to be Britain's Oldest Chalk hill figure. It is considered by some to represent a dragon itself.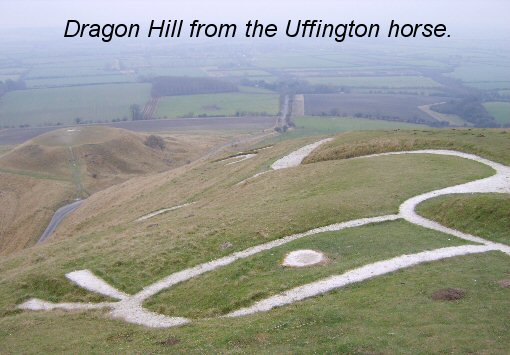 'Until 1995 the Uffington white horse was thought to date from the Iron Age. However, in the nineteen-nineties, a new dating technique was developed. This technique, optical stimulated luminescence dating (OSL), can show how long soil has been hidden from sunlight. The lines of the horse consist of trenches dug in the hillside, then filled with chalk. OSL testing of soil from between the lower layers of that chalk shows that it has been buried since between 1400 BC and 600 BC, and probably between 1200 BC and 800 BC, and thus the horse is of Bronze Age origin'.
(1)

Coins have been found in Britain dating to around 1000 BC which show the same image.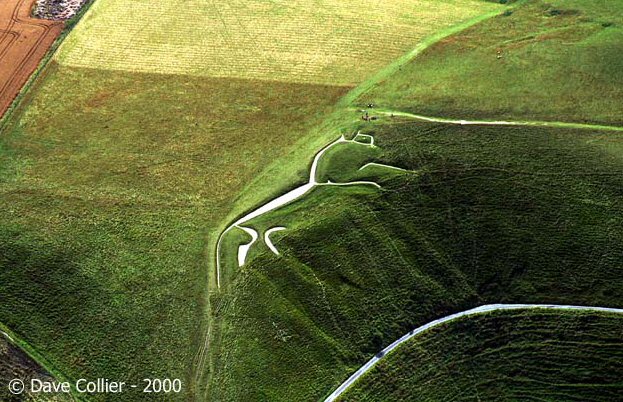 The Uffington Horse from Overhead. (The only way it can be seen complete)
Because the horse was carved on the crest of the hill, it is not possible to see the whole of the figure at any one time from the ground. At the same time, parts of the horse are visible from up to 20 miles distant. Legend says that the horse leaves its location once a year to graze in the 'Manger' below.
Uffington 'castle' which sits on the top of the hill is an impressive iron age hill-fort.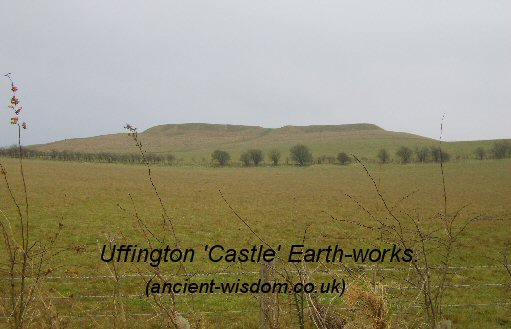 A simple design of single rampart and ditch at 857ft (262m), Uffington Caste forms the highest point in Oxfordshire. The original west entrance remains, whilst smaller entrances through the south and north-east ramparts were created by the Romano-British during their occupation of the site.
Waylands Smithy only a couple of miles further along the Ridgeway adds to the importance of this site.